We'll Be Strategically Introducing TWO Systems To The Market...
First Is The CP Manager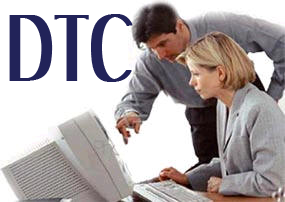 The CP Manager is all about Client & Policy Management. It's about servicing your clients faster and it's about increasing your staff's productivity. After all, client and policy management is the foundation to the agency management system.
Fail here and who cares about any of the other features a system may offer!
The CP Manager will be introducing a number of "firsts" to the industry...
The first system designed by insurance automation consultants,
The first system that's workflow driven,
The first system to re-engineer client management and policy management, and
It'll be introducing numerous exclusive features.
The focus of the CP Manager is on your clients and their policies, and on on "increasing your productivity" when working with your clients. You are in for a real treat when you check out the CP Manager!
A Year Later We'll Introduce The TIME System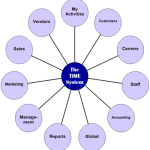 The TIME System picks up where the CP Manager leaves off by offering the tools to manage your WHOLE agency... advanced Staff Management including HR tools; advanced Carrier Management; a Management Hub to better manage and stay on top of your staff; an advanced Sales Process Manager; an advanced Marketing Hub; and there's the Global Hub for advanced reporting, profiling, analyzing and finding sales opportunities as some of the core features of this Hub.
The TIME System is the first "TRUE" agency management system... It automates more areas of your agency giving you more information and more control over your agency, your CSR's, the relationship you have with your carriers, your producers by making sure sales opportunities don't slip through their fingertips; your growth with effective marketing and more.
Then, excitedly, because we've always planned on introducing two systems to the industry, when upgrading from the CP Manager to the TIME System, check this out:
100% of your data will convert meaning you won't loose one iota of information;
You do not pay one cent to have your data converted to the TIME System; and
There's no new learning curve because we retained the already carefully designed layout for maximum effectiveness... you'll just gain more features and more Hubs.
Now this is how a vendor's client should be able to upgrade to another of the vendors systems!
How We're Able To Create The Most Productive System Ever To Be Released...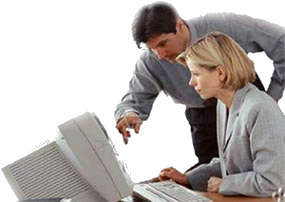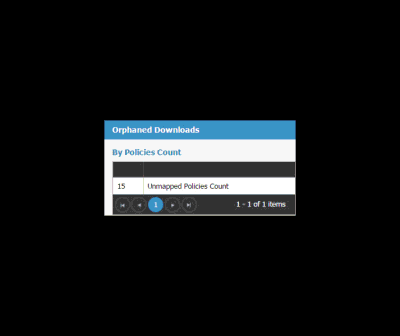 We

Dissected

The CSR's Job
Then We Built An Exclusive Feature To Massively Increase Your Productivity And To Make Sure Things Don't Slip Through Your Fingers...
One page to stay on top of work in progress; future things coming up; and policies, endorsements and renewals that need your attention or need you to stay on top of. This is our "My Activities" Hub.
We placed two very important tools to help your staff stay on top of "work in progress" down the left side of each Hub... Uncompleted Tasks (an exclusive feature) and Flagged Windows.
You can open unlimited client records and unlimited policies at the same time so you can work with multiple people and policies at the same time. Then we put the Service Tools on the policy window too with special features.
Increased Productivity Starts By Logging In
The CP Manager can be ran from your

network

or it can be

hosted on the internet

...
To serve the needs of all agencies, we give you the choice to either install it on your network (or even a single computer) or to access it from the internet with our hosting solution.
Either way, it's fast. One of the consistent complaints we hear from agencies on other systems hosted on the internet is how slow they are and how long it takes to go from window to window. This is NOT the case with the CP Manager. It's amazingly fast! 
By the way, there's also a third choice ... an in-house Web Server. This is where your in-house staff run it from a network and then with a web server you allow your outside staff and other offices to login through the internet. 
Whatever your needs, we've got solutions!
Just so you know, when we initially release the CP Manager we will only be offering the hosted version. Once we've got a full complement of staff and a team trained to help with the installation of the system we'll then make the network & hybrid version available. 
By being ran from the internet you'll be able to run it on your PC, a tablet or your smart phone when you're out of the office. You'll appreciate the flexibility we offer. You'll also be very happy to know we don't charge extra to run CP Manager from a tablet or smart phone.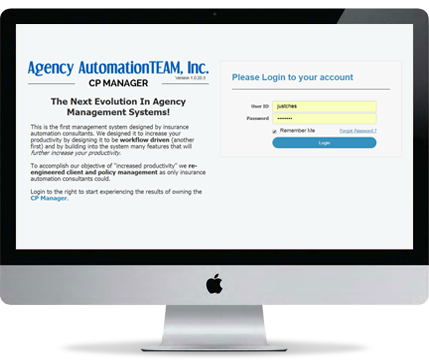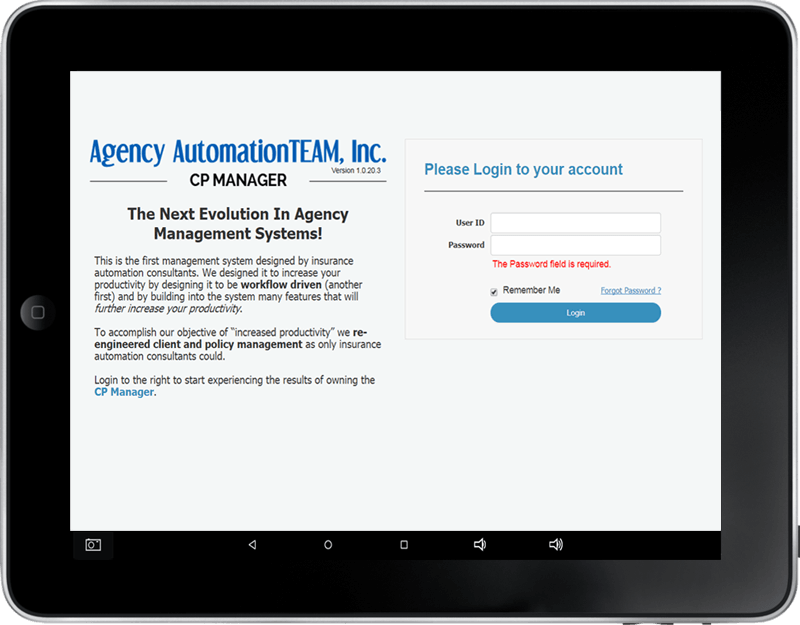 When I Say
"Workflows", What

Exactly

Am I Talking About?

It's simply the steps you go through to process a task like an endorsement, a new application, a renewal, a claim, and the other "tasks" a CSR has to perform daily.
For 30 years now this has been a workflow driven industry. This is why I became a master at creating workflow manuals for agencies… to teach their CSR's how to properly process their work. A workflow manual taught the CSR two key things…
1)   The steps to the task which was generally broke down by Carrier and Line of Business, and
2)   Where to find the tools in their management system to handle the steps, and then how to properly use those tools for the task at hand.
To complicate the process even more, there are generally additional steps when it's an agency billed policy or a commercial lines policy. Plus, a carrier could require additional information other carriers may not so the workflows for a task could be "carrier specific".
The Line of Business can also affect the workflow steps. And then to complicate it even further, from software vendor to software vendor, they haven't made it very easy to use their system for handling all of the steps of a task.
When you consider this industry has been workflow driven since the 1980's – 30 years – vendors have had plenty of time to create a workflow driven system. But they haven't. Why not?
It makes sense that vendors haven't been able to create this kind of system when you consider, from my 25+ years experience as an insurance automation consultant, none of them offer workflow training. If you can't teach it, how can you build it into a system?
Did You Know This Has Been A "Workflow Driven" Industry For 30 Years Now!?

Ever since the agency management system evolved from accounting based systems to client & policy driven systems in the early 1980's, workflows to process your work have been the key to creating an efficient agency!
But what's puzzled us insurance automation consultants is for 30 years now management system vendors have known this is a workflow driven industry and have known their systems need to support a CSR in processing these tasks. Yet, building a workflow driven system has eluded all of the vendors.
Our primary focus in designing the CP Manager has been to create a "workflow driven" system for the ultimate purpose of helping agencies to massively increase their productivity. It's not just how the system is workflow driven, but all of the other things we've done to increase productivity.
It's because we have been so focused on increased productivity that we ended up re-engineering  client management and policy management, along with creating numerous exclusive features new to the agency management system. 
Introducing a workflow driven system is long over due, but was clearly only going to happen if insurance automation consultants got involved to design it.
Is this the next evolution in agency management systems?
Many say it is. You tell me after you've seen it. Regardless, you don't want to miss what this system is bringing to the industry. 

Run It From A PC, Tablet or Mobile Phone
It's all about giving you the tools to more effectively do your job regardless to where you're at ... the office, at home or at a clients office!
With the system 100% browser based you do not need to download anything for it to work on any of these devices.
And speaking of browsers, we don't care if you use Internet Explorer, FireFox, Chrome or Safari. By supporting Safari, that means even iPads, iPhones and Apple computers can run this system!
Impressed? We're not done yet because we've only just begun... there's much more which will be revealed when we launch.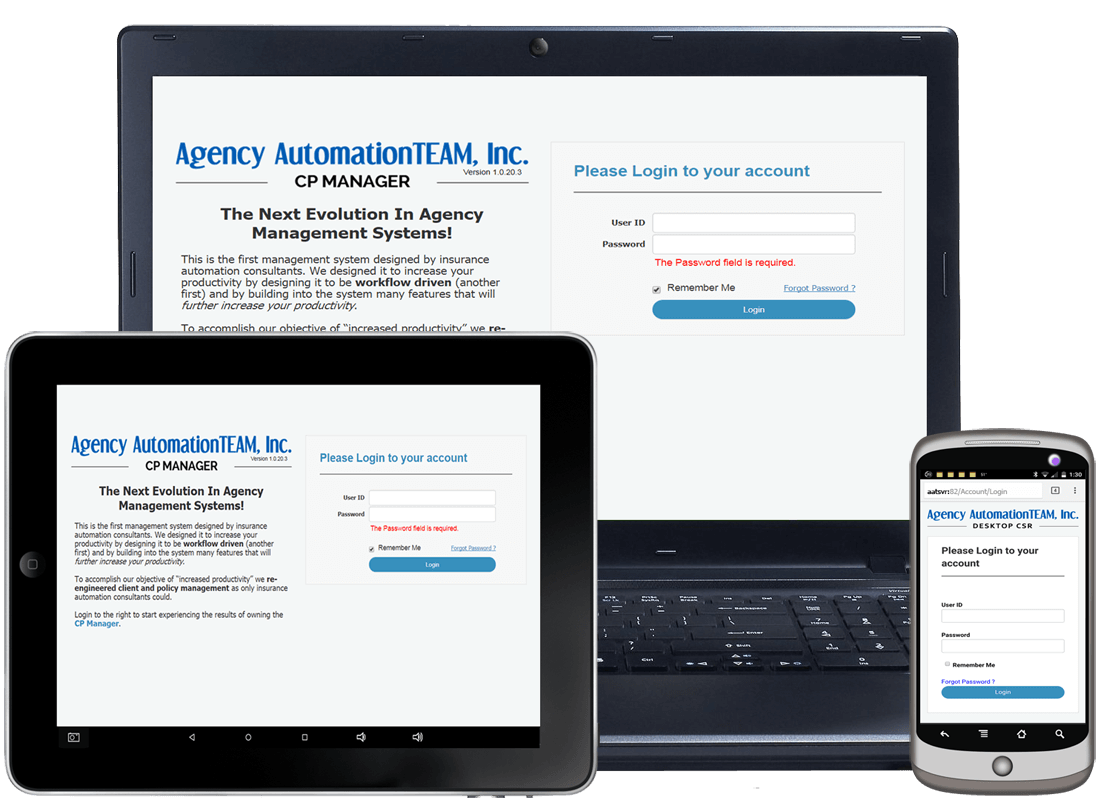 It's All About Increased Productivity.
That's Why We Had To Re-Engineer How An Agency Management System Handles Clients & Policies.