We're Not Just Another Agency Management System. We're 25 Years in The Making And Will Offer The

First and ONLY System

Designed By

Insurance Automation Consultants.
We're Very Focused On The Design Of Our Systems...



To Be Very Easy To Use. To Be Single Entry. To Massively Increase Your Productivity. To Make Your Staff Far More Efficient and Productive. To Offer Your Agency The Features Your Staff Needs To Do Their Jobs.
Strategically Introducing Two Agency Management Systems
The first rule to effectively creating an agency management system is having a thorough understanding of the job of a CSR, Producer, Agency Bookkeeper and what an Owner needs to be able to stay on top of to effectively run the agency.

Then you must have a clear understanding of the evolution of an agency as it grows and how their needs change.

It's based upon this knowledge from over 27 years of working with agencies that we are very strategically coming out with two systems. You'll love what we're doing and why we're doing it...
First System Designed by An Insurance Automation Consultant. Introducing...
Bradley Chesnut has been working with agencies helping them with their automation and marketing since 1989 after he sold his agency.

He's an expert in workflows, productivity strategies and automation systems, and is the designer of our systems. Learn more about why you'll be very glad that it's Mr. Chesnut that will be running the company and putting in place the procedures to train you and support you...
CP Manager Agency Management System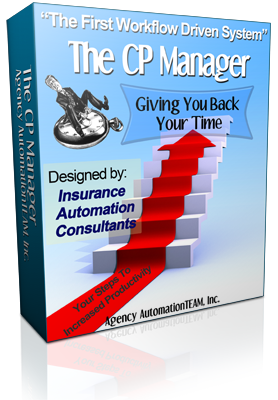 CP Manager is unlike anything you've ever experienced before. CP Manager is the kind of system you'd expect and hope to have released when it's insurance automation consultants who design the system.

CP Manager is a refreshing re-engineered system designed to massively increase your productivity and to be very easy to use. Learn more about CP Manager now...
TIME System Agency Management System
The TIME System takes the agency management systems of today to a whole new level... to being a "TRUE" agency management system.

The TIME System automates much more of your agency all within one system. Take a look at the image of all of the Hubs that will be part of the TIME System, and then go learn more about this product...
CP Manager Goes Into BETA In...
Get Ready Because The Days Of...
Way too much double/triple entry
Not handling your day to day work quickly and efficiently
Not working with a forward thinking company

You're Going To LOVE The Design Of The CP Manager And The Results You Get When Using It!
Workflow Driven ... A first for the industry
Easy To Use ... Really, it is
Amazingly Fast Online ... Runs like it's on a network
Re-Engineered Client and Policy Management
Many Exclusive Features... Your staff will love how much time they're saving!

Take A Look At Some Of Our Articles & Pages Of Interest...
We're Consistently Told, "The more we learn about your company and your system the more impressed we get"